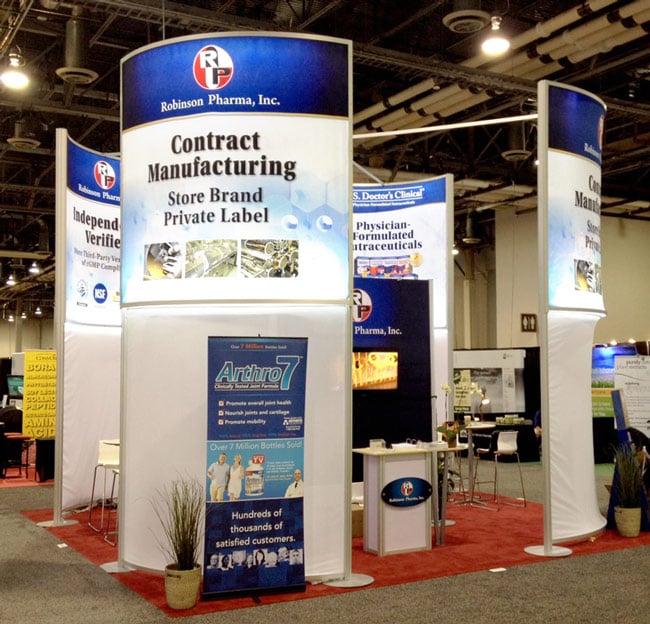 This March the Anaheim Convention Center will be home to the annual Natural Products Expo West Trade Show, with an education and events portion running from March 6–9 followed by the Trade Show March 7–9. Robinson Pharma, Inc. will once again be in attendance and we relish the opportunity to meet and share our products, goals, and the fruits of our labor with others in the industry.
The Natural Products Expo West Trade Show continues to be the leading trade show in all natural, organic, and healthy products, bringing in over 60,000 industry professionals and showcasing over 3,000 exhibits. For over a decade, Robinson Pharma has been a dedicated and interactive member in the Natural Products Expo West Trade Show. This year Robinson Pharma will have one of the largest booths at the trade show measuring 30′ x 30′. Many of our top executives will be in attendance and available to answer any questions you may have about our products and services as we continue to expand our commitment to global health.
As a leader and innovator in the nutraceutical industry, the Natural Products Expo West Trade Show gives us here at Robinson Pharma a chance to talk about some of our exciting, new, high-quality products such as Unique IS-2™. We are also looking forward to discussing our mission of international expansion as we continue to successfully increase our presence across the globe by delivering the highest quality of service and some the best manufacturing processes to valuable clients across multiple continents.
If you would like to schedule an appointment to meet with us during Natural Products Expo West please email us at [email protected]