As a leader in the nutritional supplement industry, Robinson Pharma, Inc. makes no compromises when it comes to quality and safety regulations. With our extensive list of certifications, you can rest assured that our staff of highly trained professionals and our state-of-the-art manufacturing equipment exceed current standards.
Additionally, we are registered with UL Solutions (UL) for nutritional supplement GMP conformance. UL provides safety-related certification, testing, and validation to manufacturers over a wide range of industries. UL audits our processes and systems to confirm quality assurance for our dietary supplements manufacturing process. UL's Retail Certification Program includes annual audits against industry best standards, including 21 CFR part 111 and applicable elements of 117 and 121. UL is also partnered with the Natural Products Association, an industry leading trade organization, to certify facilities against the NPA standard as part of their registration under the program. UL also conducts standard inspections for assessing whether manufacturing practices are held up to global standards, including the Dietary Supplement Health Education Act (DSHEA) in the United States as well GMP assessment for excellent dietary supplement manufacturing practices by the FDA.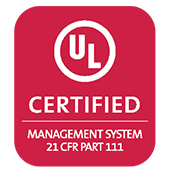 We are certified by NSF's Dietary Supplement Certification program for GMP compliance. As one of the most meticulous third-party testing organizations, NSF routinely conducts on-site inspections of nutritional supplement contract manufacturing facilities and their products. The NSF organization is also the only nutritional supplement third-party tester to evaluate products during each and every step of development until the finalization process.
A GMP-Certified Nutritional Supplement Manufacturer
Current Good Manufacturing Practices, or cGMPs, are enforced by the Food and Drug Administration for proper monitoring and regulation of manufacturing procedures within facilities. From equipment inspections to monitoring the facility's conditions and the raw materials used during manufacturing, these regulations help ensure that products are consistently safe and pure each time. Robinson Pharma, Inc. has obtained current Good Manufacturing Practices registration with a number of third-party auditors to keep the quality level of our products high.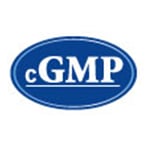 Partnership With The Natural Products Association
Our list of nutritional supplement manufacturing certifications also includes the Natural Products Association (NPA). As the first organization to offer a third-party GMP certification program for the manufacturing of dietary supplements, their standards have represented the best GMP compliance practices of the dietary supplement industry. NPA certifications are only awarded to nutritional supplement facilities that uphold impeccable practices in their manufacturing. Robinson Pharma, Inc. has continually renewed its NPA certification with each audit.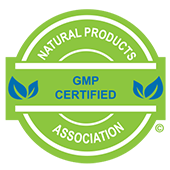 Powder Dietary Supplements Gain Organic Certification By CCOF / USDA
We have received Organic Certification by CCOF / USDA, a major organic certifier in California, for our powder supplement manufacturing services. Since its inception in 1973, CCOF has greatly influenced the organic marketplace, advancing education about the organic product movement, and providing resources for companies and manufacturers in crafting finished products and goods that qualify for organic certification. The deciding factors for organic certification are rigorous. Factors include: sourcing of ingredients for the product, usage of key materials throughout the manufacturing process, and pest and weed control around ingredients. Robinson Pharma, Inc. fulfills all of these requirements for our powder supplement manufacturing operations. We intend to expand this certification into other aspects of our dietary supplement manufacturing services.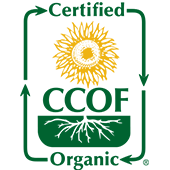 Safe Quality Food (SQF) Certification
Robinson Pharma, Inc., is now registered as meeting the requirements for the SQF Food Safety Code for Manufacturing, Edition 8. The SQF Certification program assures a commitment to safety and due diligence in the manufacturing process for dietary supplements, specifically our new food processing capability. This certification helps the customers of Robinson Pharma, Inc., establish and protect trust for their individual brands. This certification is a testament to the hard work of the Robinson Pharma team as it demonstrates a commitment to public safety and to giving customers the best in quality and protection.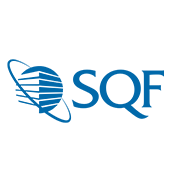 Robinson Pharma Inc., produces Halal products under the supervision of the Islamic Food and Nutrition Council of America (IFANCA)

RPI has been approved by the Natural and Non-prescription Health Products Directorate (NNHPD) for the Good Manufacturing Practice (GMP) activities under: manufacturer, packager, labeler for Canadian import

DSA Direct Selling Association Supplier
The Direct Selling Association (DSA) is the national trade association for companies that market products and services directly to consumers through an independent, entrepreneurial sales force. DSA serves to promote, protect and police the direct selling industry while helping direct selling companies and their independent salesforce become more successful. As a DSA Suppliers affiliation, RPI identifies as a part of and supporter of the direct selling community. This connects RPI with industry contacts and offers unmatched opportunities to network and exchange ideas with industry leaders at DSA meetings and events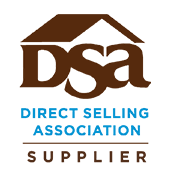 Kosher Certification is the stamp of kosher approval by a rabbinic Agency verifying they have checked the products ingredients, production facility and actual production to ensure all ingredients, derivatives, tools and machinery have no trace of non-kosher substances. The Kosher Certified symbol assures consumers that both the actual product and its production adhere to all Kosher Law requirements. Products certified when bearing the OU symbol.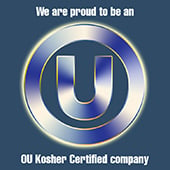 A Commitment To Dietary Supplement Quality
We have maintained these certifications by ensuring that all our manufacturing processes exceed standards that are acceptable to other nutritional supplement manufacturers. When you partner with Robinson Pharma, Inc. you will feel confident, knowing that you are receiving the highest in quality and purity for your supplement products.
Robinson Pharma, Inc. has more third-party verifications of cGMP compliance than any other manufacturer of nutritional products.